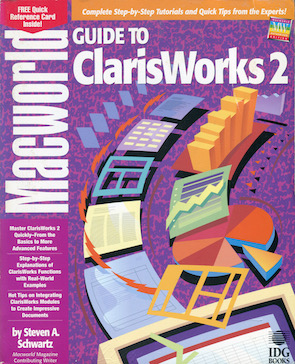 Macworld Guide to ClarisWorks 2 is your complete source for learning and mastering this powerful integrated package with nuts-and-bolts information delivered in a friendly, easy-to-understand format. It goes beyond the introductory level with comprehensive coverage of the ClarisWorks modules (word processing, graphics, database, spreadsheet, and communications) and provides hot tips on how to best integrate these applications into your daily tasks.
Hands-on introduction to ClarisWorks modules and features gets you up to speed quickly

Step-by-step sections guide you through important ClarisWorks fundamentals

Master the newest features (Outliner, Paint, QuickTime movies, and slideshows) to create stunning presentations

Task-oriented format makes it easy to find the topics where you need help the most

Special "Down to Business" sections show you how to best put ClarisWorks to work for your business

Learn to create complete business reports by incorporating charts and graphs from the ClarisWorks spreadsheet module 

Includes tips on System 7 features, including Publish & Subscribe, stationery documents, balloon help, and aliases

Learn to integrate ClarisWorks environments to produce polished, impressive documents

Includes a Quick Reference card for the ClarisWorks toolbars
Macworld Guide to ClarisWorks 2
530 pages
Retail: $22.95
Wiley (IDG Books), 1993
Siliconwasteland price: Signed $250
Note: Macworld Guide to ClarisWorks 2 was the first book in my ClarisWorks/AppleWorks Bible series for IDG Books, Hungry Minds, and Wiley. The six-edition series concluded with the Macworld AppleWorks 6 Bible in 2000.