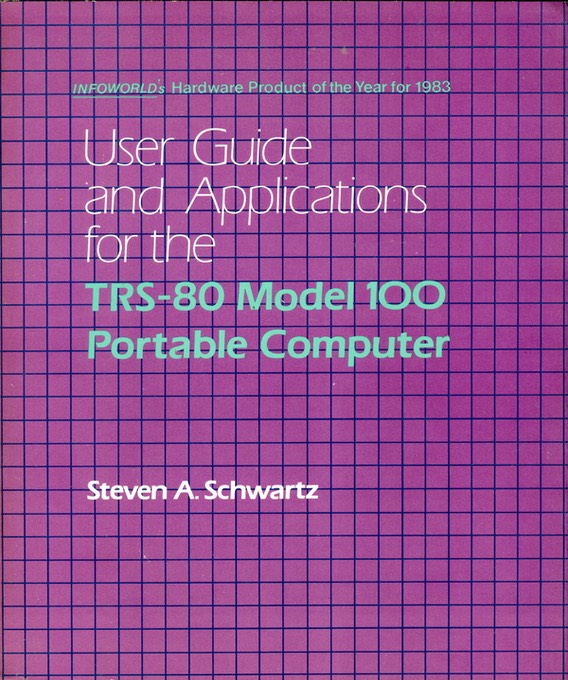 In the early 1980's, I was contacted by Scott, Foresman, and Company and asked to write a book about hard drives. As an alternative (because I didn't have that much to say about hard drives), I said I'd prefer to write about one of the first truly portable computers: the TRS-80 Model 100. It had an 8 line by 80-character scrolling display and was a favorite of many journalists and reporters of the day.
User Guide and Applications for the TRS-80 Model 100 Portable Computer was completed in approximately 12 weeks. Unfortunately, Scott, Foresman, and Company was a textbook publisher. The book was its first foray into trade paperbacks, and they hadn't created an editorial process for such books. The approval process for a textbook required six vice presidents to read and sign off on the book before it could be published. Applying this process to my book resulted in the manuscript slowly floating around for 18 months before approval to publish was granted. Thus, instead of being the first or second book published on the TRS-80 Model 100, it was the last one.
Even back in the 1980's, the greatest user interest in most hardware and software was in the first 6–12 months. Because my book came out so late, it sold a mere 325 copies … not because it was a bad book but because it was released well past the point of there being any interest in the topic. The experience so devastated me and was such a financial failure that I vowed never to write another book. It wasn't until 1987 that I wrote my second title: Compute's Guide to Nintendo Games.
In addition to being my first book and more than 30 years old, the one or two copies that I have are likely the only new copies in existence, making this unquestionably the rarest of my signed titles.


User Guide and Applications for the TRS-80 Model 100 Portable Computer
208 pages
Retail: $16.99
Scott Foresman & Co., 1984

Siliconwasteland price: Signed $1,500