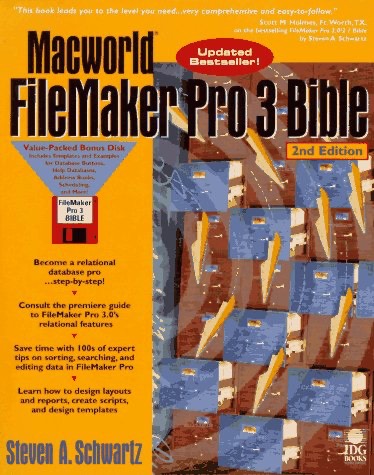 Inside you'll find everything you need to know to maximize your performance with FileMaker Pro 3.0! You'll find the same friendly step-by-step instructions that got you up and running in the first edition—but this time with all-new material focusing on FileMaker Pro 3.0's time-saving new relational features.
In Macworld FileMaker Pro 3 Bible, 2nd Edition, noted author Steven A. Schwartz, Ph.D. gives you easy step-by-step techniques to use FileMaker Pro to design your own professional-looking databases—and to connect data from table to table with ease. Whether you're brand new to FileMaker Pro or a seasoned user, this guide has what you need to master this top-selling database program.
The book includes a high-density floppy disk with templates, examples, demos, and utilities.
Macworld FileMaker Pro 3 Bible
702 pages
Retail: $34.99
Wiley (IDG Books), 1996
Siliconwasteland price: Unsigned $17.49; Signed $34.99