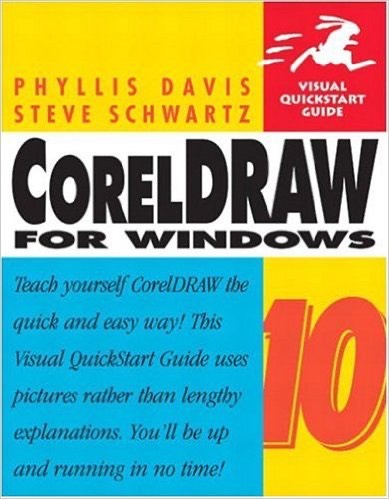 CorelDRAW has enjoyed a long run at the front of the pack of illustration programs on the market. No wonder: You get vector illustration, layout, bitmap creation, image editing, painting, and animation, all in one package. With the milestone release of version 10, the leading object-oriented drawing and graphics program proves that it isn't resting on its laurels. Whether you're upgrading from a previous version or have never used an art program before, CorelDRAW 10: Visual QuickStart Guide is the fastest, easiest way to create graphics for print and the Web with this powerful and flexible program. 
In patented Visual QuickStart style, the book takes you step-by-step through one task at time, supplementing each set of directions with clear, informative screenshots designed to keep you on track. Newcomers to CorelDRAW can start at the beginning and work their way sequentially through the program's tools and features. For CorelDRAW veterans, CorelDRAW 10 for Windows: Visual QuickStart Guide is a must-have quick-reference guide to version 10's essential new features.
Author note: Starting with this edition, I took over the book from Phyllis Davis. Phyllis was the CorelDRAW and illustration expert, and her excellent examples were carried over from the previous edition. The book was completely updated by me for CorelDRAW 10 and to better fit with other titles in the Visual QuickStart series.


CorelDRAW 10 for Windows: Visual QuickStart Guide
256 pages
Retail: $19.99
Peachpit Press, 2002

Siliconwasteland price: Unsigned $9.99; Signed $19.99